We would be happy to provide an estimate for your custom project. Please be aware that additional information may be needed to accurately assess all costs, but this information will be helpful to get started. We attempt to respond to each request within 24 hours.
BY PHONE
If you would prefer a jewelry quote over the phone, call Gary Dawson at 541-729-2531 to discuss your project.
POLICIES AND PRICING
To move a custom design process beyond initial consultation I require a deposit. An average deposit is probably about half of the estimated total cost of the project. The deposit is flexible depending on your individual circumstances and remains refundable during the design stage. When design is approved and actual production begins the deposit becomes nonrefundable and payment in full is due just prior to delivery of the finished project.
Fees vary and I can normally estimate specific projects during the initial consultation. Currently, my average fee for custom work is around $800.00 but fees range from a couple hundred dollars to several thousand, depending on complexity of the design and implementation. I normally work with a flat fee which covers all of the design stage, (consultation time, physical design, feedback process, and revision if necessary) and then production, (spruing and investing, alloying, casting, and cleanup.) In addition to design and production, there may be materials costs (gems and metals) and stone setting fees involved in the estimate.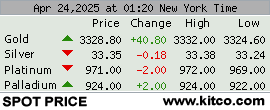 As a courtesy, I have included a live feed of current spot prices for various precious metals. Please understand that these prices are for raw materials only without any consideration of mark-up, labor or added value of any type. Price fluctuations should be thought of as an indicator of materials pricing trends, not as estimates of component prices.